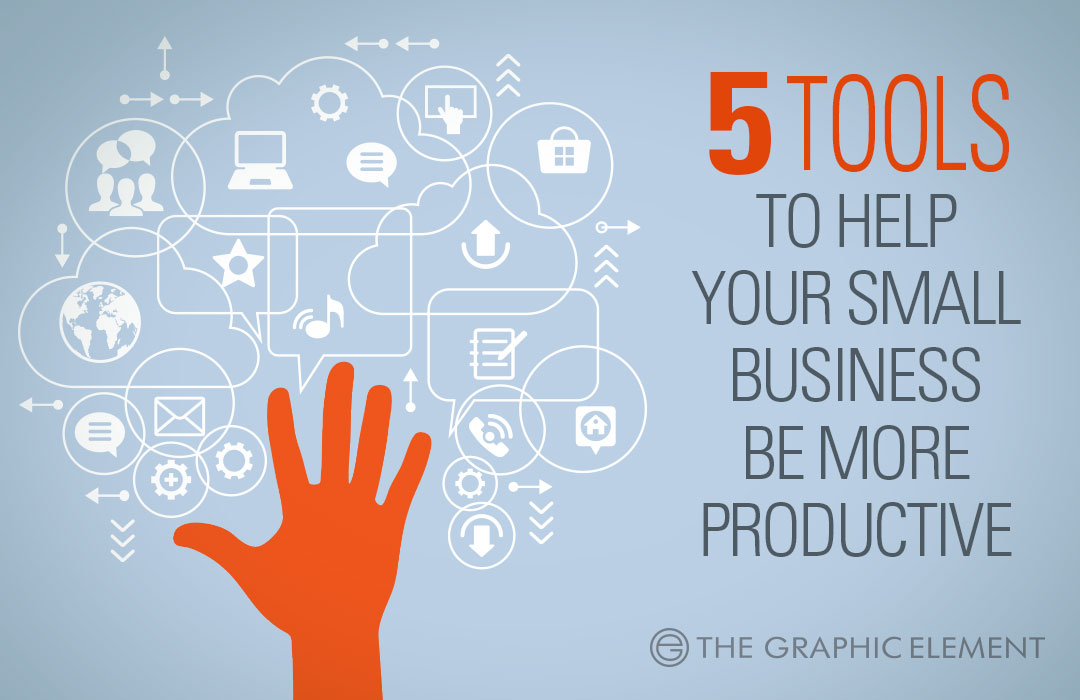 5 Tools to Help Your Small Business Be More Productive
Many small business owners get caught up in daily distractions that can stifle growth. They spend more time working "in" their business (administrative, operations, staffing) rather than "on" their business (growth, opportunities, better work/life balance).¹ Here's our list of the best tools to help you tackle common inefficiencies and help make your small business be more productive.
While most of these may be web-based software, the idea here is to automate and streamline as much of the workflow as possible. Use these tools to lighten the load. Share files, manage deadlines, oversee your entire operation in as few clicks as possible. Your time is best spent growing your business, not grappling with technology.
1. Simple CRM
Manage your customer interactions efficiently by using simple CRM tools like Act and Zoho for sales teams or Freshdesk for customer service support issues. These tools will keep a digital record of your email and phone calls, and then send you reminders to follow up. Do not rely on paper rolodexes, excel sheets or tiny bits of paper.
Zoho CRM
Multichannel CRM with email integration, telephony, social media integration, other sales apps such as gamification, advanced analytics and territory management. Web and mobile.
Monthly fees: Standard $12, Professional $20, Enterprise $35, Ultimate $100
Act!
This service integrates your contacts database with email marketing, pipeline management, calendar, and reporting. Robust set of tools primarily for PC users. Limited Mac compatibility. Web and limited mobile.
Monthly fees: Premium $25, Premium Cloud $35, Pro $239
Freshdesk
Called a helpdesk on autopilot, Freshdesk automates the customer service interactions via email and phone. Integrates with social media. Powerful ticketing and reporting. Web and mobile.
Monthly fees: Free trials, starts at $19-$89
2. Team/Project Management
Whether you are a team of one or 100, use a centralized repository to manage, track and grade your projects. Meet deadlines, maintain assets, track who is responsible and how much time was spent.
G Suite (formerly Google Apps for Work)
Combines productivity and collaboration tools by Google that you are already familiar with in one universal dashboard that you can share with your team. Web and mobile.
Monthly fees: Basic $5, Unlimited $10
Glip
Plan, share and organize tasks. Ability to create teams, pin notes, video chat and calendar system for recurring tasks or events. Web and mobile.
Monthly fees: Free, Basic $5, Pro $10
Slack
Team communication and collaboration via text, call or video. Track tasks via channel, direct message or calls. Drag/drop/share files. All interactions are indexed and searchable. Web and mobile.
Monthly fees: Free, Standard $6.67, Plus $12.50
3. Social Media Management
For small businesses with limited resources, use a social media management tool to efficiently manage multiple channels in one or a few dashboards. Many SaaS products offer individual or free plans. Streamline your content curation, generate content ideas, schedule posts, monitor your competition and analyze your efforts
Hootsuite
Manage, schedule and track multi network interactions. Create custom targeted streams for each channel. Schedule, publish and analyze your content. Free version has very limited tools except for scheduling which can still be a huge time saver. Web and mobile.
Monthly fees: Free, Pro $10, Team $35, Business $100, Enterprise
SproutSocial
Powerful (and pricey) management and engagement platform. Publish, schedule, drafting. Unlimited reporting. Monitor profiles, keywords and hashtags. Web and mobile.
Monthly fees: Deluxe $59, Premium $99, Team $149, Enterprise $249
Zoho Social
Schedule unlimited posts, manage social networks, track conversations, and measure performance from a single dashboard. Web and mobile.
Free, Standard $10/month, Professional $50/month
4. Email Marketing
Email marketing is one of the most valuable marketing tools for small business. You can nurture existing customers while finding (and converting) new ones. A simple all-in-one tool like Constant Contact has a host of features that includes easy drag-and-drop design layout, social media integration, forms builder and reports.
Constant Contact
Simple interface to manage your list, design and schedule your campaigns. Customizable templates and list builder. Very SMB-friendly with tutorials, networking and a marketing staff to help you get started. Limited but useful reports. Web and mobile.
Monthly fees: based on contacts size, starts $20/month
MailChimp
One of the few that offers a freemium (up to 2000 contacts) with limited features. Offers more third-party integrations so you can connect your store and Google Analytics. Create targeted emails from social media ad campaigns, automate product follow-ups and back in stock messaging. Easier A/B testing. It is the most popular of the three but it has a steeper learning curve. Web and mobile. Monthly fees: New Business FREE, Growing Business starts $10, Pro $199 additional
Aweber
The original autoresponder email marketing service with RSS to email feature. Offers more email templates than most other services (700+) and integrates with Outlook, Gmail and Salesforce. Requires all imported lists to be fully opt-in (unlike the other two). Web and mobile. Monthly fees: based on contacts size, starts $19/month
5. Business Development
Top picks for low to no cost resources to grow your business. Explore networking opportunities wherever you can. Sign up for newsletters, follow them on social media or contact them directly with questions.
SCORE.org
Find free business mentoring and education. Volunteers always needed. Great networking opportunities.
SBA.gov
Great resource for businesses of any size. Your local small business center can also be a good resource.
Inc.com
One of the fastest path to growth is to watch (and read) what others have accomplished before you. Inc magazine online offers a constant flow of ideas, tips and resources to startups every day.
¹Time Management Survey, Bulldog Reporter. Feb '26, 2016