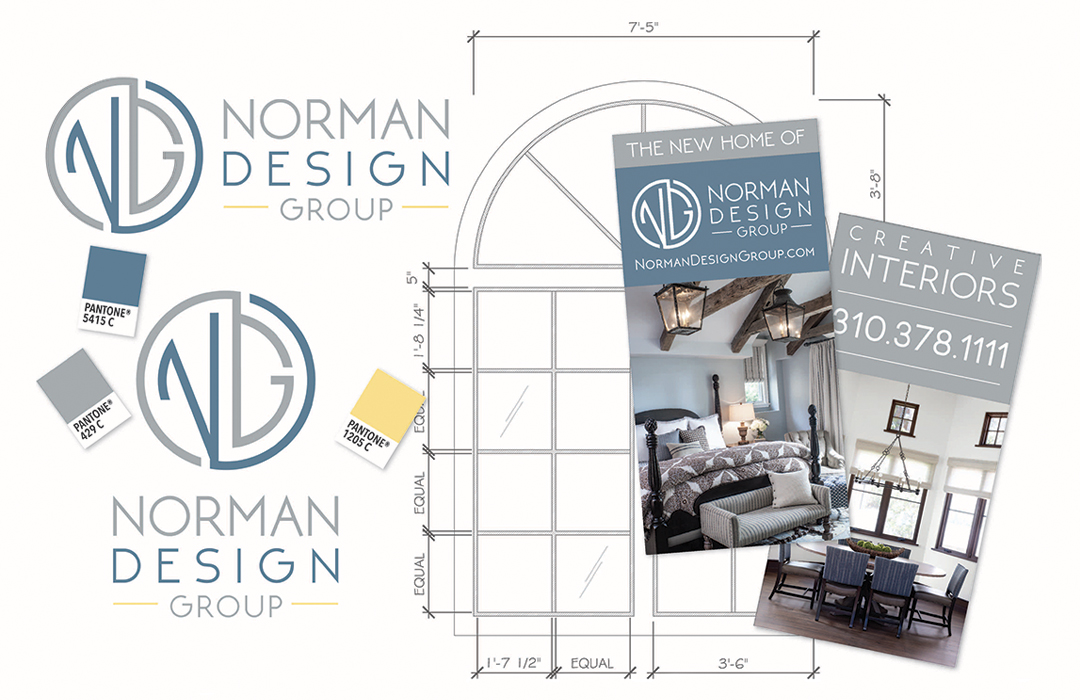 Rebranding Norman Design Group
Norman Design Group (NDG) is an established design firm that creates custom interiors in the South Bay and beyond. They specialize in designs that capture each client's personality, lifestyle and passions.
NDG is small enough to give each client personalized attention while large enough to provide in-depth project management. They pride themselves on their unique ability to turn what can be a complicated and overwhelming process into a manageable one.
When Phil first started the business back in 2003, he was driven by his passion for transforming spaces and creating new homes. Fifteen years later, that passion has transformed hundreds of homes for his happy clients and made it necessary for NDG to relocate to larger offices not once but twice. And, like many businesses that experience growing pains, it was time for a brand reboot.
According to Norman, NDG is "in the customer service business [who] just happen to be interior designers." But as growing companies do, they were too busy servicing their clients to spend a lot of time on their own branding. But how do you decide between rebranding or repositioning?
REBRANDING + REPOSITIONING
Branding describes the overall personality of a company, its products and services, look and feel. Branding elements include color, design and marketing materials such as stationery, packaging and signage. A well designed brand will set you apart from the competition.
Rebranding involves taking an existing brand and altering its message and/or design elements. Proactive rebranding is often in response to predictive growth and securing relevancy in the marketplace.
When we sat down with Phil and his team in our Manhattan Beach office, we brainstormed on their rebranding strategy. We wanted to help elevate their positioning while preserving their unique brand story. In essence, we were rebranding and repositioning at the same time. Our goal was to breathe new life into their firm while helping to create new opportunities.
Whether your home is New Traditional or exudes Contemporary chic, NDG's promise to their clients was to give them a warm, welcoming home that everyone wants to visit because it is a natural extension of its owner. Possibly without realizing it, they "brand" your home as an extension of your personality, philosophy and values. When we understood this, it was immediately clear to us that the most effective way to help Norman Design Group was to apply the same principles that NDG used on their clients:
We developed a completely re-imagined logo identity with a warm, soothing color palette. The modern yet timeless monogram logo treatment along with consistent imagery has shaped into a successful re-brand of their design group across all platforms – print, signage and social media that communicates their attention to detail, experience and customer service.
In addition, we decided on "Creative Interiors" as their new tagline to reaffirm their positioning and used it throughout their office spaces.
Norman Design Group has built a business on creating beautiful, relaxing spaces for homes big and small, all the while making those spaces unique and tailored to each client's lifestyle. It's no wonder that they are one of the happiest group of clients we have ever met.
Clearly, for anyone who wants to greatly enhance their home, you don't need to travel to Beverly Hills or the Westside to find a creative team more expert than Norman Design Group.
It has been a great honor to work together with them and we look forward to continuing to collaborate with their creative team in the future.
Read about the project details here.